FH310-TIR MINI is a high precision 3-axis gimbal with 10X optical zoom camera and thermal camera. It is so light only 490g. FH310-TIR MINI 10X zoom camera supports 1080P 60FPS full HD video output, and the pixels of the thermal camera is 640x480.
FH310-TIR MINI also has the target tracking function, with which you will never lose the object. Just zoom in and put the object you want to track in the screen, move the cursor to the object and lock it via controller, and then the camera will track it automatically.
FH310-TIR MINI high-precision 3-axis gimbal is developed based on FOC technology, features high stability,small volume and low power consumption. The gimbal offers 2 smart speed modes: FAST speed and LOW speed. Fast speed mode is used for small zooming range, low speed mode is used for large zooming range. Also the gimbal supports one-key back to center.The gimbal supports PWM,S.BUS control and serial command control.
FH310-TIR MINI can be applied in many fields like power line inspection, searching, emergency monitoring and rescue.
Specifications:
Weight:490g
Working Voltage: 3S-4S
Size:118x109x116.5mm
Working Temperature: -10℃ ~ +60 ℃
Range of control angle: Pitch:±90° Roll:±85° Yaw:±170°
Control Precision:
Pitch & Roll: ±0.01°Yaw: ±0.01°
SD card: max 128G ,class10, FAT32 or exFAT format
White Light Camera:
Sensor: 1/3" Progressive CMOS sensor
Lens: 10X optical zoom, f=3.2~33.6mm, F1.8-F3.4
Zoom Mode: Standard / Variable / Direct
LUX: 0.5 lx(1/30sec, F1.8, 50%)
IlIumination Range: 100 lx~100,000 lx
Gain: Auto/Manual
Shutter Speed: 1/1~1/10,000 sec
Exposure Compensation: -12dB ~+ 12dB
Backlight Compensation: ON / OFF
Thermal Camera:
Pixels: 640x480
Pixel Size: 17μm
Emissivity Correction: Emissivity 0.01~1 adjustable
NETD: ≤50mK(@25℃)
MRTD: ≤650mK
Image Enhancement: Automatically adjusts image brightness and contrast
Color Palette: Black hot, white hot, pseudo color
Warning Temperature -20℃~120℃
Tracking:
Data Refresh Rate: 25Hz
Output lag: <3ms
Tracking Velocity: ±32 pix/frame
Target memory time:4s
Target Size: 16x16 pixels - 128x128 pixels
Your Purchase Includes:
1x FH310-TIR MINI 10X Optical Zoom and Thermal Camera
1x FH310-TIR MINI 3-axis Gimbal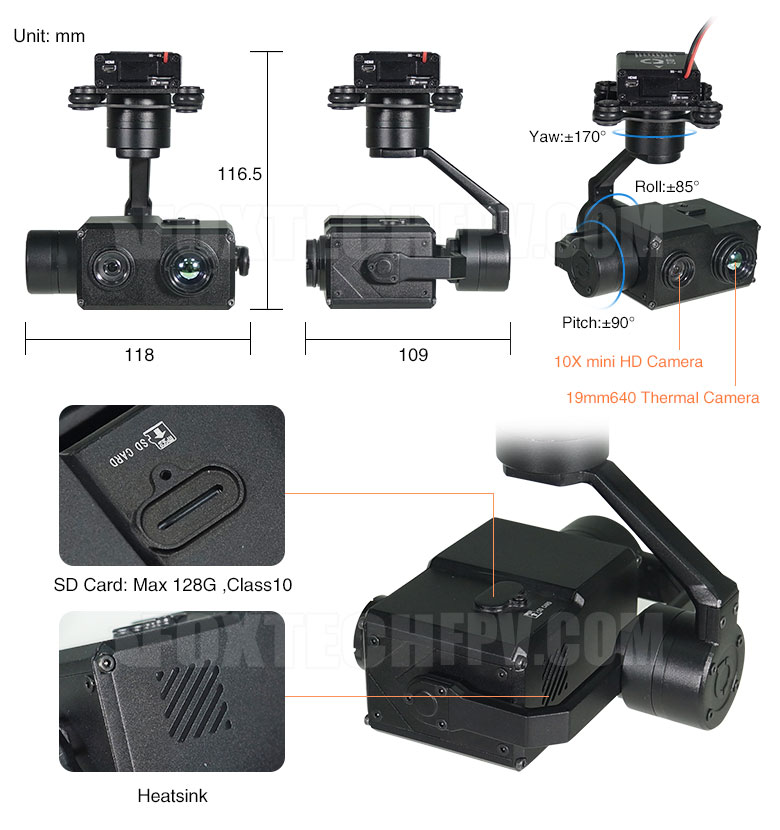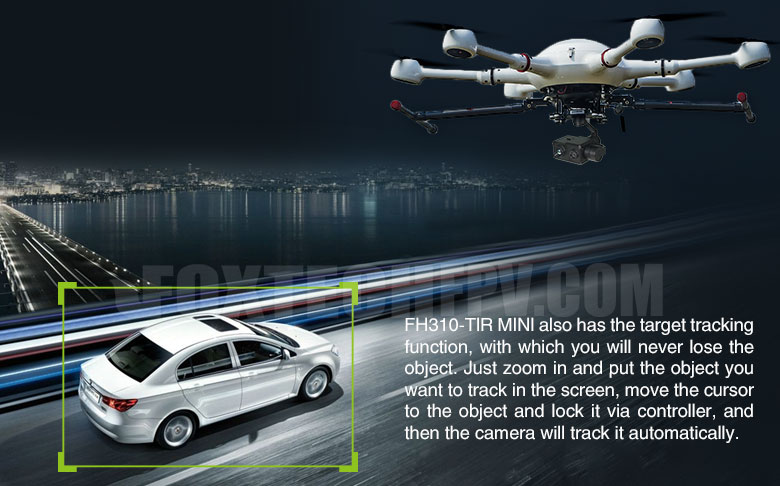 All packages are sent without our website logo or any information indicating about us.
Customers Who Viewed This Item Also Viewed
Prev
Next
Customer Reviews
5 star: 0 (

0

%)
4 star: 0 (

0

%)
3 star: 0 (

0

%)
2 star: 0 (

0

%)
1 star: 0 (

0

%)
Your last viewed items
You have no recently viewed items
Recommendations Based On Your Recent History
WHY CHOOSE OMGFLY?
All FPV products
Extremely low prices
Timely refunds and replacements
Worldwide free shipping
Get great weekly deals and offers