FH310IR-TR is a 3-axis high stabilized gimbal with a 10X optical zoom camera and an thermal camera. The 10X zoom camera provides a 1080P 60FPS full HD video streaming, and the zooming function makes it possible to see objects in detail over distance. The thermal camera allows you to see targets in the night and low visible conditions, and the pixels of thermal camera is 640x480, so it really helpful when you are carrying out missions like inspecting or monitoring objects especially at night.
The high-performance 3-axis gimbal is based on FOC technology, which features high stability, accuracy and sensitivity. The gimbal offers 2 smart speed modes: FAST speed and LOW speed. Fast speed mode is used for small zooming range, which makes the gimbal control sensitive and quick. LOW speed mode is used for large zoom range, which will enable you to target the object more accurately.
FH310IR-TR uses the most advanced tracking technology, and it works on both daylight sensor and thermal sensor, so you can track targets freely during daytime and night time. Just put the object you want to track in the screen, move the cursor to the object and lock it via controller, and then the camera will track it automatically. FH310IR-TR 3-axis gimbal also could geotag the video streaming and photos, and gimbal Yaw/Pitch angle, height, time information will be displayed on camera OSD, this is really important when you are carrying out missions like rescue and search.
Specifications:
Weight: 879g
Size: 119x121x117mm
Focal length: 10X optical zoom, 4.9-49mm
Video output: 1080P/60 HDMI
Video recorded: 1080P/30 H.264
Wide Dynamic: Up to 105dB
Static current: 240mA(@12V)
Dynamic current: 320mA(@12V)
Auto focus: <1S
Range of control angle: Pitch:±90° Roll:±45° Yaw:±150°
Control precision:
Pitch and roll:±0.02° Yaw:±0.03°
Input Voltage: 3S~6S
Working temperature range: -10℃~ 50℃
Control signal: PWM and serial command
Tracking velocity: ±32 pix/frame
Target size: 16x16 pixels to 160x160 pixels
Thermal camera:
lens: 19mm lens
pixels: 640x480
Pixel size: 17μm
Emissivity correction: Emissivity 0.01~1 adjustable
Features:
-1/2.9 inch 2MP CMOS sensor
-10X optical zoom,1080P/60 HDMI output
-1080P/30 H.264 video recorded
-Auto object tracking function
-Geotagging, gimbal Yaw/Pitch angle info,height,time will be displayed
-PWM control and serial command control
-Convenient wiring hub for RC receiver and video output
-Adjustable control speed: SLOW speed for large zoom range,accurate.FAST speed for small zoom range,sensitive and quick.
-One-key back to center
Your Purchase Includes:
1x FH310IR-TR 10X Optical Zoom Camera
1x FH310IR-TR 3-axis gimbal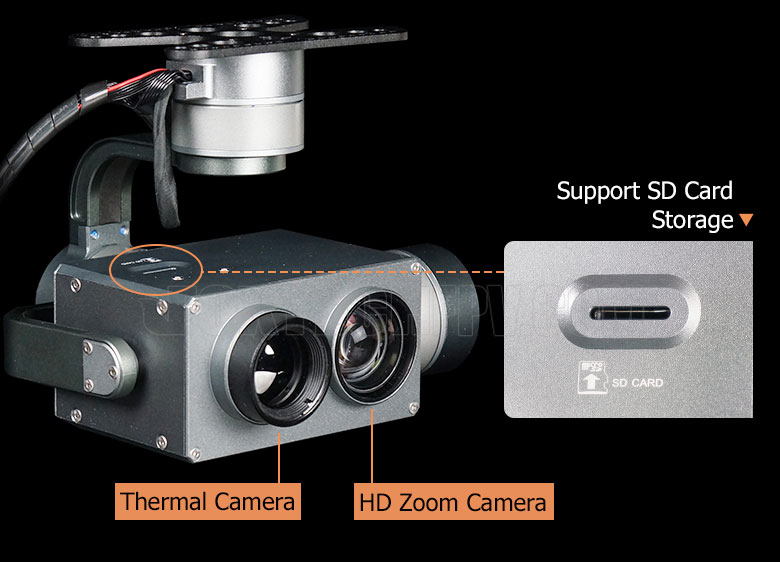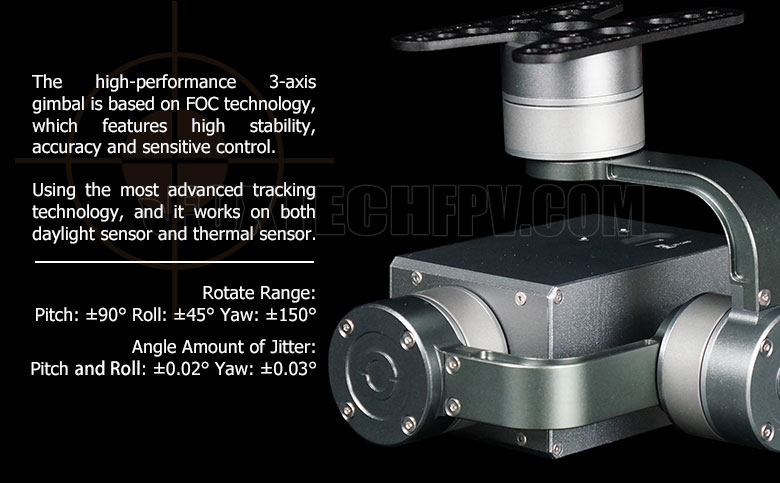 All packages are sent without our website logo or any information indicating about us.
Customers Who Viewed This Item Also Viewed
Prev
Next
Customer Reviews
5 star: 0 (

0

%)
4 star: 0 (

0

%)
3 star: 0 (

0

%)
2 star: 0 (

0

%)
1 star: 0 (

0

%)
Your last viewed items
You have no recently viewed items
Recommendations Based On Your Recent History
WHY CHOOSE OMGFLY?
All FPV products
Extremely low prices
Timely refunds and replacements
Worldwide free shipping
Get great weekly deals and offers